Plovoucí po hvězdách
From the Church of St. Margaret in Břevnov, Prague, the bells are ringing, carrying away everything lost and forgotten… As they do so, the characters in this book have to deal with their lives, tangled relationships, losses – and start over… Twelve different destinies in one book. Is the life of a successful blogger truly flawless? What to do in the gapyear in between High School and Uni? How to deal with a breakup? Enter the world of today's young adults in a story cycle which embraces love, hate, tension, pain, but also supernatural powers… The characters encounter one another and help one another in a world that is so similar to ours and so magical.
Publisher: Coo Boo, 2019
Buy this book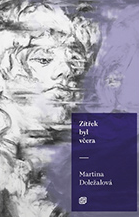 Zítřek byl včera
Tereza, a young Czech woman, with her partner Richard, goes to the south of France for vacation, where she encounters her potential past, linked to the life and tragic death of a French high school girl Adeline. Adeline's father Sébastien and a poet and painter Arthur help Tereza discover the signs leading to Adeline's mysterious disappearance and murder. Enigmatic Pierre Augure, a prophet, traveller and devotee to Eastern philosophies and religions, enters the story as Tereza begins to think about the possibility of returning to her past life.
Publisher: Milan Hodek, 2016
Buy this book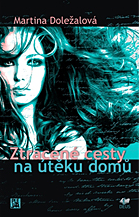 Ztracené cesty na útěku domů
The novel aligns four Czech women living abroad who know one another but with years gone by lost contact. Thanks to the sudden encounters, they realize what they genuine desires and values are and what has been escaping their grip. Accepting the idea that stepping back does not necessarily mean resignation allows them to wake up into a peaceful morning of new beginnings. The main character of the novel, Marlene Montagne, writes an autobiographical book in the hope that writing helps her reveal the very truth about her life that she been trying to escape.
Publisher: Plejáda publishing, 2012
Borrow this book
Kolej Today
Kolej Today contains 18 short stories, mostly situated in Prague student environment, where students, teachers, drivers, lawyers, doctors and others more or less meet randomly to tell stories about their lives. All stories are linked by the figure of Veronica, a bilingual French student who was born to a Czech writer and a French organist, and after spending years in the tranquil countryside of Southern France decided to go to the metropolis to get to know her mother's roots.
Publisher: Plejáda publishing, 2012
Borrow book